8 Ways to Pay for College With No Money Saved
One of the largest obstacles to attend college is paying for it. This article offers some suggestions to help you figure out how you can pay for college without much in savings.
Earning a college degree can open up many doors for you in your career. It can also significantly increase the chances you'll end up earning more money over your lifetime. But unfortunately, getting a degree is expensive and going to college with no money can be a major challenge.
To earn a degree, you'll have to pay for tuition, fees, and living expenses -- all of which can add up to tens of thousands of dollars every year. If you have nothing saved to cover these costs, you'll need to explore all of your options for how to pay for college without any saved money.
Fortunately, there are many resources you can tap. Here are eight possible ways you can fund your degree without a lot of savings in the bank.



1. Attend a school with low (or no) tuition fees
Going to college with no money is easier if your school is very affordable, or if it has committed to helping students attend regardless of their financial needs.
Community colleges often charge far less than private institutions. The same is true for state schools for students who meet residency requirements. These programs may be more affordable for you if you have limited savings. That's especially true if you choose a school close to where your parents or other relatives live and you can stay at home while earning your degree.
Some of the country's most elite schools have also made a commitment to ensure that finances don't stand in the way for qualified applicants. Harvard, for example, indicates that it will meet every student's demonstrated financial need for all four years of undergraduate education. And Princeton promises to use grants to meet 100% of demonstrated financial need. Grants do not have to be repaid.
2. Work your way through school
In some cases, you may be able to pay for school as you go by working while you complete your coursework.
This isn't always practical and this approach could mean you need to go to school only part-time -- which could take longer. Still, if you can't figure out how to pay for college without any savings, earning a paycheck while attending could be a solution.
Federal work study programs help some students earn part of their tuition costs while they are completing their degree. Or you could find a full-time or part-time job off campus depending on what's best for you. Even working a summer job and saving money towards your costs during the school year could help make college more affordable.



3. Apply for federal and state scholarships and grants
Scholarships and grants can be a great way to pay for school because you won't have to pay back the money. And there are plenty of federal and state options, most of which are awarded based on financial need.
Federal Pell Grants are one example of a source of federal aid. Qualifying students can receive up to $6,495 for the 2021 to 2022 academic year. However, each student's specific award will be based on expected family contribution, as well as the cost of attendance.
To apply for federal and state grants, you will need to complete the Free Application for Federal Student Aid (FAFSA). You can also visit your state's Departments of Education website to find out more about local grants and scholarships available to you.
4. Raise funds from friends and loved ones
While you may not personally have money to pay for school, other people in your life might be able to contribute financially to help you earn your degree. Parents, grandparents, aunts and uncles, siblings, and even close family friends may be willing to help you with tuition money or by providing a place to live while you attend school.
It may feel uncomfortable to ask loved ones for help, but it doesn't hurt to try -- especially if it means the difference between being able to pay for school and not being able to go. When you make your request, be prepared with an explanation of why you want to attend school, what degree or program you'll be completing, and what you hope to do with your education.



5. Ask your school's financial aid office for help
University financial aid offices are some of the best resources for students trying to figure out how to pay for college with no money.
Your school's financial aid office can help you to find and apply for scholarships offered by the school as well as work with you to identify other types of financial assistance that may be available, such as payment plans that allow you to cover tuition costs over time.
6. Seek out scholarships and grants from other sources
Many private businesses, nonprofits and other organizations offer scholarships to people who need help figuring out how to pay for college. These programs may be need-based or may be open to specific candidates such as poets who submit their work or people who are studying to become teachers.
It's a good idea to start researching scholarship options early to maximize your chances of finding enough funding. Start with organizations you or your loved ones are members of and then branch out. You can look for scholarships online from many sources including:



7. Take out federal student loans
Going to college with no money often means taking out student loans. The Department of Education offers several different loan options including the following:
Direct Subsidized Loans:

These need-based loans offer affordable fixed interest rates and low origination fees. When loan payments are deferred (during school and for a period of time after graduation), the government subsidizes interest costs so your loan balance doesn't continue to grow.

Direct Unsubsidized Loans:

These loans also offer affordable fixed interest rates and low origination fees, but they don't have subsidized interest.

Grad or parent PLUS Loans:

Graduate students or

parents of dependent undergraduates can qualify for federal PLUS Loans. Although the interest rate and origination fees are higher than for Direct Loans, these still offer many of the same federal loan benefits including flexible payoff options. You cannot qualify with adverse credit, though.
You may be able to cover most or all of the cost of college with federal loans. Remember, though, that you must pay back what you borrow after graduation.
8. Take out private student loans
Students should exhaust eligibility for Direct Subsidized and Direct Unsubsidized Loans before taking out private loans. That's because of the extensive benefits federal loans provide to borrowers, including income-driven payment options and generous deferment and forbearance policies.
But many people can't fund their schooling with Direct Loans alone. Private loans can be a good option for those who can't qualify for PLUS Loans or who don't want them. Private loans may be more affordable for some borrowers, especially those with good credit.
Private loan lenders often don't charge an origination fee, unlike PLUS Loans, and interest rates can be very reasonable.
If you are interested in private loans, Juno can help. We get groups of students together and negotiate with lenders to ensure borrowers get the very best possible rates for private student loans.
Join Juno today to find out more about your options for affordable private student loans to help fund your degree.
---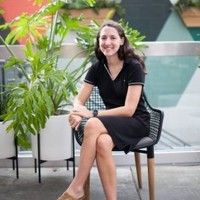 Written By
Christy Rakoczy Bieber
Christy Rakoczy Bieber is a full-time personal finance and legal writer. She is a graduate of UCLA School of Law and the University of Rochester. Christy was previously a college teacher with experience writing textbooks and serving as a subject matter expert.