Best MBA Student Loan Refinance Options
If you want to refinance MBA loans, make sure you choose an affordable lender. Here are five of the best MBA student loan refinance options.
Obtaining a Master of Business Administration (MBA) is expensive, with average annual tuition costs typically totaling around $75,000 per year or more according to US News & World Report. It's not a surprise that many MBA grads have substantial student loan balances.
If you borrowed a lot of money to earn your degree and are interested in MBA loan refinancing, it's a good idea to research the best MBA student loan refinance options. Here are five of the best lenders to consider for MBA loan refinancing as well as some tips on how to find an affordable lender to refinance MBA loans.



The Five Best MBA Loan Refinancing Options
Here are five top lenders for borrowers interested in finding a way to refinance MBA loans at an affordable rate.
SoFi
SoFi offers law and MBA loan refinancing with fixed interest rates starting at just 2.49% APR with autopay discount as of Oct. 20, 2021.
Borrowers have a choice of fixed or variable rates and can score membership perks including discounts for taking out multiple loans with the company as well as access to networking events.
PenFed Credit Union
PenFed is a credit union, so membership is required to refinance MBA loans with this financial service provider.
The lender offers low fixed rates starting at 2.89% APR as of Oct. 20, 2021. It accepts parent co-signers for those who can't qualify on their own, and there are no fees to apply or prepayment penalties if you want to repay your loan ahead of schedule.
College Ave
College Ave provides both fixed-rate and variable-rate refinance loans. The APR on fixed rate loans ranges from 2.99% to 6.84% as of Oct. 20, 2021, with autopay discount, while variable rate loans have starting rates as low as 2.94%.
College Ave allows you to refinance as little as $5,000 worth of debt and offers a helpful online calculator so you can determine how much you'll save by refinancing. You'll also have a choice of repayment timelines between five and 20 years.
First Republic
First Republic offers the option to obtain a personal line of credit that can be used to refinance student loans.
Although not specifically a student loan refinance loan, this option offers a very affordable interest rate of 2.25% to 3.50% APR with relationship-based pricing adjustments as of Oct. 20, 2021. This is one of the lower rate options available, especially as there are no loan fees charged and no prepayment penalties.
CommonBond
CommonBond is unique because it not only offers fixed-rate and variable-rate loans but also provides a hybrid option. With fixed-rate loans, rates start as low as 2.26% as of Oct. 20, 2021.
There are no origination fees or prepayment penalties with CommonBond. And for those who hit a spot of financial trouble, the company provides borrowers with the opportunity to put loans into forbearance for up to 24 months.



How to Find the Best MBA Refinance Loans
These are five of the top lenders offering MBA loan refinancing, but they are not the only options out there for business school graduates looking to refinance MBA loans. The important thing for borrowers is to find a lender that's right for them.
Some of the key factors to consider when finding the best MBA student loan refinance options are:
Interest rates:

Interest is the cost of borrowing. The lower the rate, the less expensive the loan should be. Borrowers will need to make a careful choice between fixed-rate and variable-rate loans. Variable rates start lower but could adjust up, while fixed rates are guaranteed for the life of the loan, so they provide more certainty.

Repayment terms:

Different lenders offer varying options for repayment timelines, with common loan repayment terms lasting between five and 20 years. A longer payoff time will result in lower monthly payments but higher total interest costs over time.

Cost and fees:

Borrowers considering MBA refinance loans should look for a student loan refinance lender that does not charge origination fees or prepayment penalties. That can help keep costs down.

Qualifying requirements:

Unlike federal student loans, private student loan lenders consider credit score and income when determining whether a borrower is able to qualify for a refinance loan and what rate to offer the borrower. However, qualifying requirements can vary by lender, so borrowers may need to shop around or consider a co-signer if they can't qualify on their own.

Minimum and maximum refinance amounts:

Many private student loan refinance lenders have minimum refinance requirements, and some have maximum limits. Make sure the lender you work with will allow you to refinance your desired amount of debt. In most cases, you'll want to refinance private student loans but not federal student loans, as you'd otherwise have to give up borrower benefits federal loans provide. That's because you can refinance only with private lenders. The Department of Education doesn't offer a refinance loan option.
Borrowers should get quotes from at least three lenders when looking for MBA loan refinancing options, as rates and terms vary from one lender to another. It's important to look at the big picture, including total repayment costs and monthly payments.
Juno can streamline the process of applying and make it easier than you imagined to refinance MBA loans. Juno gets groups of borrowers together and negotiates with partner lenders on behalf of the group. By using collective bargaining to make lenders compete for business, Juno can help each individual borrower to get the best possible MBA student loan refinance loan.
To learn more about how Juno can help you through the process of MBA loan refinancing, join Juno today.
---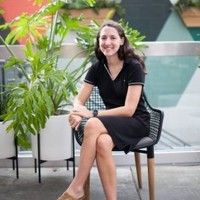 Written By
Christy Rakoczy Bieber
Christy Rakoczy Bieber is a full-time personal finance and legal writer. She is a graduate of UCLA School of Law and the University of Rochester. Christy was previously a college teacher with experience writing textbooks and serving as a subject matter expert.