Does Bank of America Offer Student Loans?
Finding lenders for student loans is important. This article dives into some of your options.
If you are borrowing for school, you may be wondering, does Bank of America offer student loans? You may be asking this question because you're already a BOA customer and you want to keep your loans with the same bank, or simply because Bank of America is one of the larger financial institutions in the country.
The answer, however, is no.
The good news is, if you were interested in student loans, Bank of America is not the only lender that offers them. In fact, there are many other lenders that you can borrow from to pay for your degree.
So what are your other options since Bank of America student loans aren't available? Here are a few of them.
Does Bank of America offer student loans?
While Bank of America student loans used to be available, they have not been for a long time.
The bank ended its private student loans program in 2008. And while the bank used to offer federal student loans through the Federal Family Education Loan Program, it stopped issuing those student loans in 2010.
That means no student loans have been available from BOA for more than a decade.
Federal alternatives to Bank of America Student Loans
Although Bank of America doesn't provide federal student loans any more, the Department of Education still provides substantial amounts of educational funding to people who need to borrow to go to school.
In fact, students may be able to obtain many different kinds of federal student loans including:
Direct Subsidized Loans

Direct Unsubsidized Loans

Direct PLUS Loans
Parents can also obtain Parent PLUS Loans.
Applying for federal student loans
Eligibility for specific types of federal student loans depends whether you are a graduate or an undergraduate student. Credit score doesn't matter for most types of federal loans, nor does your income although some types of federal student aid are based on financial need.
If you are interested in applying for federal student loans since Bank of America student loans aren't an option, you should submit your Free Application for Federal Student Aid which is available online through the Department of Education.



Alternatives to Bank of America private student loans
You have many options if you are looking for private student loans. Bank of America was not the only lender issuing them. And while BOA has stopped making private loans, other banks, credit unions, and online lenders still offer this type of financial product.
To find the best alternative to Bank of America private loans:
Get quotes from several different financial institutions. Rates vary from one private lender to another, unlike federal loans which have low fixed rates.

Consider whether a variable or fixed rate loan is right for you. Variable rate loans may have lower starting rates than fixed rate loans, but they have more risk since rates could adjust up.

Consider asking a cosigner to apply with you. A cosigner with stronger financial credentials, such as more income or a better credit score, could potentially help you get a lower rate.
The good news is, private student loans are generally available even after you have exhausted eligibility for federal student loans. Qualified borrowers will have their choice of many lenders, some of which offer similar or more competitive loan terms to the private student loans that Bank of America used to provide.
What is the best alternative to Bank of America student loans?
You should exhaust eligibility for Federal Direct Subsidized and Unsubsidized loans before taking out private loans because federal loans provide many more borrower protections and benefits than federal loans do. This includes things like:
The ability to modify your repayment schedule as needed.

Income-driven repayment plans that cap monthly payments as a percent of income

Loan forgiveness for public service work or for making a certain number of on-time payments

Loan forgiveness after making a certain number of payments on an income-driven plan

Flexible deferment and forbearance options that allow you to pause payments temporarily without risking default.
If you have exhausted your federal loans, then you can find the best private student loans Bank of America alternatives by comparing quotes and loan terms from several lenders.
Focus on interest rate; fees; loan repayment options; and borrower protections when looking for an alternative to Bank of America student loans. Juno can streamline this process because we've reviewed loan offers from dozens of partner lenders and we negotiate on behalf of borrowers with private lenders to help ensure they are getting the best possible rates.



What if you already have Bank of America student loans?
Many people who have Bank of America student loans have already paid off their educational debt because their loans were taken out such a long time ago. However, that is not the case for everyone.
If you have existing loans you initially received through Bank of America, you can continue to make payments on your loans as you have been doing until your debt is paid in full. You also have the option to refinance your loans with another private lender of your choosing.
Refinancing federal loans would mean giving up the borrower benefits mentioned above because refinancing is available only through private lenders. You can't refinance with the Department of Education. But you don't give up any benefits when refinancing private loans, so there's no downside if you can reduce your rate and borrowing costs.
Bank of America also doesn't offer refinance loans, but like with other types of student debt, there are plenty of refinance options available with other lenders. Juno can help you to get the most affordable rate when refinancing. We get groups of borrowers together and negotiate with lenders on their behalf to help them get the most competitive loan rates and terms possible given their financial credentials.
Join Juno today to find out more about your options for affordable private student loans to help fund your degree.
---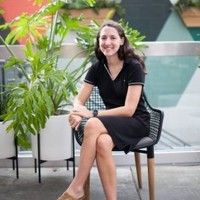 Written By
Christy Rakoczy Bieber
Christy Rakoczy Bieber is a full-time personal finance and legal writer. She is a graduate of UCLA School of Law and the University of Rochester. Christy was previously a college teacher with experience writing textbooks and serving as a subject matter expert.