Filed the FAFSA but Have No Financial Awards Available This Year? Here Are Your Options
Not receiving federal financial aid can be frustrating. This article will help you navigate your next steps.
When you submit your Free Application for Federal Student Aid (FAFSA), you likely expect to be offered some financial help from the schools that you are interested in attending. That's why it can be really upsetting to log into your account or receive a notice stating "you have no financial aid awards available for viewing in this aid year."
The good news is, if this happens to you, it doesn't necessarily mean you won't be getting any financial help to go to school. The key thing to do is to figure out why you're receiving this message and see if something can be corrected.



Contact your school's financial aid office
If you are told that you have no financial aid awards available for viewing in this aid year, the very first thing that you need to do is to contact the financial aid office at your school and ask why you received this message.
There are a number of possible reasons why you might have been told no aid is available:
Your FAFSA may be incomplete

. If you failed to submit any information on your FAFSA, then the school may not have determined yet what types of aid you are eligible for.

You didn't list the school on your FAFSA:

If the school wasn't listed on your FAFSA and they did not receive the information from your forms, they can't put together a financial aid package for you.

Your financial aid package hasn't been processed yet:

Some schools use the same generic wording for all students awaiting a financial aid package or who haven't qualified for financial aid.

Your FAFSA had a mistake.

If you provided inaccurate information about your income or assets, it is possible these errors resulted in an inability to offer you financial aid.
Finding out why you don't have a financial aid award is the crucial first step in the process of dealing with a financial aid denial. If you've made mistakes or provided incorrect information, there may still be time to update your FAFSA forms and get offered financial help from the school.
See if you can appeal a denial of aid
If you are told that you have no financial aid awards available for viewing in this aid year and your school confirms that you will not be receiving a financial aid package, your next step is to ask why you aren't entitled to any aid.
In some cases, this may be because your income is too high -- but there could also be other problems, such as a lack of satisfactory academic progress. Depending on the reasons why you aren't eligible for aid, you may be able to write a financial aid appeal letter requesting that your school reconsider the aid package that you have been offered.



Explore other options for paying for school
If you cannot obtain any financial aid and you still want to attend school, you'll need to explore alternative options for paying for your degree. These include the following.
Search for private scholarships and grants
There are many different scholarships available from private companies, non-profit organizations, and local groups. These are scholarships that are entirely separate from any financial help that your school may offer. And because scholarships and grants do not have to be repaid, the more of this type of help you can qualify for the less money you will need to borrow and repay after graduation.
You may be able to find scholarships based on your academic major; your family background; your academic interests; your extracurricular activities; your hobbies; or even your religious or professional affiliations. The key is to start looking for scholarship options as soon as possible and to apply for as much aid as you can.
Start by asking organizations you are a member of, or check with your employer and the employers of any close family members. You can also ask your school's financial aid office if they have a database of scholarships you may be able to apply for. And you can use online scholarship search engine websites to find hundreds of different scholarships that could potentially be open to you. Some examples include:



Apply for private student loans
You may not be able to get enough grants and scholarships to fully fund your schooling -- especially if you have been told you have no financial aid awards available for viewing in this aid year.
The good news is, even if you don't qualify for federal student loans, private student loans could still be available to you. Many banks, credit unions, and online lenders offer private loans. While you have to be a qualified borrower -- or have a cosigner who is -- you can often borrow money for school at a very competitive rate. And you may be able to borrow much more from private lenders than the federal government would allow you to borrow through the Department of Education.
If you are taking out private student loans, you want to ensure you choose your lender carefully. Unlike federal loans which all have the same fixed interest rate based on the type of loan and when you apply for it, private loan rates can vary a lot from one lender to another.
Juno can assist you in finding the most competitive possible rate at the best terms for your situation. We get groups of borrowers together and negotiate with lenders on their behalf to help group members get the most competitive rates they can given their financial credentials.
Join Juno today to find out more about your options for affordable private student loans to help fund your degree.
---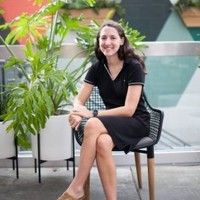 Written By
Christy Rakoczy Bieber
Christy Rakoczy Bieber is a full-time personal finance and legal writer. She is a graduate of UCLA School of Law and the University of Rochester. Christy was previously a college teacher with experience writing textbooks and serving as a subject matter expert.