How to Pay Off $100,000+ in Student Loans
Need to pay off $100,000+ in student loans? This article breaks down the steps you can take to achieve this.
If you have a $100,000 student loan debt, figuring out how to repay your balance can be a challenge. A high loan balance can make your monthly payments very expensive and can make paying off your loans seem like an insurmountable challenge.
The good news is, if you're wondering how to pay off $100K in student loans fast, there are options available to you. Here are some of the steps you can take to become debt-free even when you have a six-figure student loan balance.
How to pay off $100K in student loans fast
If you have a $100,000 student loan debt balance, these six steps can help you figure out how to pay off $100K in student loans fast.
1. Choose the right repayment plan
With federal student loans, you have a choice of different payoff plans, including the standard plan that would result in your loans being paid off in 10 years.
You can also choose income-driven plans that cap payments as a percentage of income. With an income-driven plan, you could end up paying your loan over 20 or 25 years, but payments could be much lower. At the end of this period, your remaining loan balance will be forgiven.
If your goal is to pay off $100K in student loans fast, the standard repayment plan would be a better option. But if you are struggling to make payments because your loan balance is so high, an income-driven plan or extended repayment plan may be a better bet.
You won't have a choice of payoff times with private student loans once you've borrowed, so think carefully when taking your loan initially. Decide if you'd prefer a longer payoff period with lower monthly payments but higher total costs or a shorter repayment schedule that costs more each month but allows you to be debt-free sooner.
2. Consider refinancing your student loans
Refinancing student loans could help you to lower your interest rate or change your payoff timeline. It can make a big difference in helping you quickly repay a $100,000 student loan debt.
You generally don't want to refinance federal students because you can refinance with private lenders only. By switching federal loans to a private lender, you would have to give up the flexible repayment options and the possibility of loan forgiveness which only federal loans offer.
If you have private loans, though, it can pay to refinance if you can reduce your rate. By switching to a new loan at a lower rate, you can sometimes lower monthly payments and reduce total payoff costs over time.
3. Explore student loan forgiveness options
If you have federal student loans, one of the best and easiest ways to pay off a $100,000 student loan debt may be to get some of the balance forgiven. If you work for a qualifying non-profit or the government, you may be able to qualify for Public Service Loan Forgiveness (PSLF).
With PSLF, you'll make 120 qualifying payments on an income-driven plan, and the remaining balance of your loans will be wiped clean, so you'll be debt-free after a decade. You can also explore other loan forgiveness options on income-driven plans even if you don't work in public service, but forgiveness may not come until you've paid your loans for at least 20 to 25 years.
If you have private student loans, forgiveness is not an option.
4. Look for an employer that offers help
Some employers provide help repaying student loans. Look for an employer that offers a matching program or other financial assistance. If you work in certain fields, such as healthcare or teaching, there may also be state or federal programs that help you to repay some of your debt.
5. Be strategic about which debts to repay first
If you have multiple different student loan debts, you may want to make extra payments to loans with a higher interest rate first. By repaying these more expensive loans ahead of schedule, you can reduce total borrowing costs and accelerate the time until you become debt-free.
6. Decide how much extra to pay
If you want to pay off a $100,000 student loan debt early, you'll need to make extra payments beyond the minimum amount due. Decide how much extra you can afford, keeping in mind that the larger your monthly payments, the faster your debt will be paid down.
Before you decide to pay extra on student loans, though, consider the fact that the rates on these loans are often low, and most people are allowed to take a tax deduction for up to $2,500 in student loan interest. Since student loans are a relatively affordable kind of debt, it may make sense to make minimum payments only and to focus on using your extra money for other financial goals.
How long does it take to pay off $100K in student loans?
Unfortunately, there's not one simple answer to the question, how long does it take to pay off $100K in student loans. That's because your payoff schedule will depend on whether you qualify for loan forgiveness, as well as how much extra you can pay each month and how low your interest rate is.
Refinancing your high-interest student loans can be the best and easiest step to making paying a $100,000 student loan debt faster. That's because dropping your interest rate allows you to reduce total repayment costs.
Juno can help you to qualify for the best possible rates on private student loans, as well as on private student loan refinance rates, so you can keep your interest expense low even with a high loan balance. Join Juno today, and we'll group your application with other borrowers and negotiate on the group's behalf to make lenders compete for your business.
---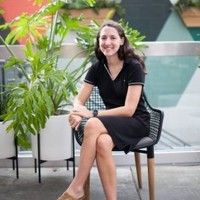 Written By
Christy Rakoczy Bieber
Christy Rakoczy Bieber is a full-time personal finance and legal writer. She is a graduate of UCLA School of Law and the University of Rochester. Christy was previously a college teacher with experience writing textbooks and serving as a subject matter expert.