How to Use StudentAid.gov to Manage Your Federal Debt
StudentAid.gov is your one-stop shop for managing your federal student loans. Learn more about how to use the website here.
If you have federal student loans, StudentAid.gov is your one-stop shop for managing all your loans from the Department of Education. While students who obtained federal loans once had to use multiple websites — including StudentLoans.gov, StudentAid.gov, FSAID.ed.gov and NSLDS.ed.gov — to manage the details of borrowing and repayment, the government has simplified the process.
You still need to learn how to use the StudentAid.gov website, though. Fortunately, this guide to the online student government aid site can help you learn all the steps involved in managing and repaying your debt.



What can you do at StudentAid.gov?
StudentAid.gov offers many tools for managing your federal loans. The things you can do online at StudentAid.gov include:
Finding and managing student loans:

After your loans are disbursed, you can visit StudentAid.gov to find out the total amount of outstanding loans as well as which loan servicer you have. Your servicer is assigned to you by the Department of Education and manages the process of loan repayment.

Completing entrance and exit counseling:

Mandatory counseling helps you to understand the obligations you are taking on before borrowing as well as your options for repayment when you leave school for any reason.

Optimizing your repayment plan:

A loan simulator tool is available on the student government aid website that allows you to compare repayment plans. Since you can change your repayment plan as needed, this can be invaluable in picking the plan that's right for you.

Applying for an income-driven repayment (IDR) plan:

Income-driven repayment plans cap payments at a percentage of your income. Payments could be as low as $0. After a certain number of years on an income-driven repayment plan, you'll have the remaining balance of your loans forgiven. There are four IDR plans, and the applications to qualify for them take around 10 minutes.

Updating your IDR information:

Students on an income-driven repayment plan must recertify their financial information once per year. This can be done at StudentAid.gov. It involves providing information on your income and family size.

Consolidating student loans:

Students can apply for a Direct Consolidation Loan at Student Aid.gov. A Direct Consolidation Loan combines multiple federal loans into one and can open the door to more repayment plan options. You'll need to know the types of loans you have, your loan servicer's details, your account number and the outstanding balance on your loans.

Tracking your repayment progress.

You can monitor your loan balance and track eligibility for Public Service Loan Forgiveness and other types of loan forgiveness.
In addition to completing all of these tasks, you can find additional forms as well as resources that give you more insight into managing your loans.



How to use Student Aid.gov
To use StudentAid.gov to manage your federal debt, here are the steps you should take:
Create a Federal Student Aid (FSA) ID.

You can create an FSA ID at

FSAID.ed.gov

. You will need your Social Security number, your email address and your telephone number to create your ID.

Choose a username and password:

You will need to choose a username and password so you can log in to your account again in the future once you've created it. You also will be asked to choose security questions and answer them. If you need to reset your ID or password in the future, you'll need to provide the same answers.

Log in to your account:

You will need to visit StudentAid.gov and enter your username and password. Once there, you can use the different services mentioned above to manage various aspects of your student loans.
If you need help using StudentAid.gov, you can call 800-433-3243 to receive telephone support Monday through Friday between the hours of 8 a.m. and 11 p.m. ET or Saturday and Sunday between the hours of 11 a.m. and 5 p.m. ET.
You can also use the live chat on the student government aid website or send an email to studentaid@ed.gov.
What loans can you manage at StudentAid.gov?
You can manage federal student loans, including Direct Subsidized Loans, Direct Unsubsidized Loans and Direct PLUS Loans at StudentAid.gov.
You cannot, however, manage private student loans on this website. If you have private loans, you will need to visit the site operated by your loan servicer. You will also need to visit the websites of individual private student loan providers if you are interested in applying for private student aid for college or if you are interested in refinancing existing private student loans.
While it's generally best to take full advantage of federal loans due to the benefits they provide, many students also require private loans to cover the full cost of earning their degree. There is much more variation in rates and terms among private lenders, though — unlike federal Direct Subsidized Loans and Direct Unsubsidized Loans, which have low fixed interest rates available to all borrowers regardless of credit history.
If you are interested in private student loans or are thinking about refinancing existing private student debt, Juno can help you explore your options and find loans with the best rates and terms. We get groups of borrowers together and ask trusted partner lenders to compete for their business. This helps ensure each individual borrower gets the most competitive rates possible so borrowing is as affordable as it can be.
Join Juno today to find out more about private loan options for undergraduate school and graduate school as well as to learn about student loan refinancing options.
---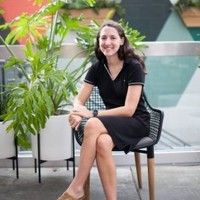 Written By
Christy Rakoczy Bieber
Christy Rakoczy Bieber is a full-time personal finance and legal writer. She is a graduate of UCLA School of Law and the University of Rochester. Christy was previously a college teacher with experience writing textbooks and serving as a subject matter expert.