7 Poetry Scholarships to Help Pay for College
Specific scholarships are a great way to secure funding. Read here to learn about poetry scholarships.
Paying for college can be challenging, but there are many scholarships available for students with different skills and interests. For talented writers, poetry scholarships could help to cover some of the costs of school -- if you find and apply for them.
The good news is, there are many scholarships for poetry writers that can provide a source of tuition money you don't have to pay back. Here are seven options to consider -- along with some tips for finding additional funding sources.



1. The Ruth Lilly and Dorothy Sargent Rosenberg Poetry Fellowships
Poets aged 21 to 31 are eligible for a $25,800 prize from the Poetry Foundation and Poetry Magazine. Five fellowships are awarded annually and the financial awards are intended to "encourage the further study and writing of poetry."
While the age requirements may rule out most undergrads, those pursuing a graduate degree could find this an ideal source of educational funding -- especially as the fellowship doesn't impose any specific requirements about what course of study to pursue.
To become eligible, you'll need to include a 250 word introductory note as well as 10 pages of poetry. Only U.S. citizens and residents are eligible. In some years, the funds are split between winners if there are multiple entries that merit an award.
You can learn about past winners and apply for this poetry scholarship on the website of the Poetry Foundation.
2. The Amy Lowell Poetry Traveling Scholarship
Amy Lowell was an American poet who established a scholarship in her will upon her death in 1925. Trustees of her will award the scholarship each year, and the value of the scholarship is $59,000.
There's an application form to submit to become eligible. Many candidates include their resumes as well. You will also need to include a sample of your poetry for consideration.
You can find the application form online, and learn more about the scholarship at Amy Lowell.org.
3. The Pablo Neruda Prize for Poetry
The Pablo Neruda Prize for Poetry is awarded by the University of Tulsa, although the funds can be used to pay for any undergraduate or graduate program. There is a $20 admission fee to enter, and two scholarships are awarded. The first prize is worth $2,000 and the second is worth $1,000.
Winning poems are also published and students will receive a paid trip to Tulsa in October for the Awards Ceremony and Writing Conference. The contest will run between January 1 and April 1, 2022 and applicants must submit between three and 10 pages of poetry. This could include one long poem or several shorter works.
You can find details about the awards and apply online at the University of Tulsa website.
4. The National High School Poetry Contest
This poetry contest runs throughout the year, but applicants must submit their works each quarter. All high school students are eligible, but are limited to submitting a maximum of one poem each 90 days. There is no entry fee and poems must be 20 lines or less.
Students who are chosen as Poet of the Year will be awarded a $500 college scholarship while there are also several scholarships valued at $100. The winning applicants will also have the opportunity to have their work published in a national poetry quarterly called Just Poetry.
You can find out application details on the High School Poetry Contest website.
5. The 1800wheelchair.com Scholarship
1800wheelchair provides $500 scholarships to students who submit poems related to overcoming challenges. In recent years, the contest has focused on "visual poems."
Eligible students must be enrolled at an accredited high school, college, or university and must be in good standing with a GPA of 3.0 or above. No printed application is required, but the visual poem must be submitted by mail and accompanied by a personal statement.
You can learn more details on the 1800wheelchair.com scholarship website, where you will find detailed instructions about how to apply for this poetry scholarship.
6. The Narrative Prize
This $5,000 prize is awarded annually. June 15 of each year is the deadline to be considered for the money, and the winners are chosen in September. The prize may be split between winners in years when multiple works merit an award.
The money can be used for any purpose, and the contest isn't limited to poets only. Short novels, excerpts from novels, one-act plays, literary non-fiction, graphic stories, and poems are all considered for the award.
You can find out more about the application process on the Narrative Magazine website.
7. Scholastic Portfolio Awards
Scholastic offers 16 $10,000 scholarships and 30 $1,000 scholarships to talented writers or artists -- including poets. To become eligible, graduating seniors should submit a writing portfolio containing six writings. A personal statement is also required that provides insight into your creative process when developing your work.
You can find more details and apply online at ArtAndWriting.org.



Tips to find more poetry scholarships
These are just a few of the many scholarships available for poetry writers. To help find other financial awards designed for poets, try these resources:
1. The English department at your college or university
Some college and university English departments provide scholarships for talented writers. Examples include the following:
2. Your school's financial aid office
Financial aid offices generally maintain databases of all of the scholarships available to current and prospective students. For example, UCLA provides a list of scholarships offered internally by the school as well as resources for finding outside scholarships. You can search these databases to find different types of funding you don't have to repay, including poetry scholarships.
3. Local organizations
Writers groups, local literary magazines, or other location organizations may also offer scholarships for poetry writers. Start with organizations you are a member of to find out what type of financial help they may offer to pay for school. And contact other local poets or writers groups as well to see what options are available.



Scholarships for poetry not enough? Other affordable options
Hopefully, you'll be able to find and qualify for many poetry scholarships that can help you to cover your school costs. But these scholarships may not be enough to cover your tuition and other school-related expenses.
Explore other scholarships and grants first, such as Pell Grants, as these sources of funds don't have to be paid back. But once you've exhausted scholarship opportunities, federal student loans can provide an affordable way to pay for school. These loans have low fixed interest rates and offer ample borrower protections, including options for loan forgiveness.
Private student loans can also help cover the shortfall beyond what scholarships, grants, and federal loans pay for. Juno can help you qualify for affordable rates on private loans by grouping you with other students and negotiating with lenders on behalf of the group.
Join Juno today to find out more about your options for affordable private student loans to help fund your degree.
---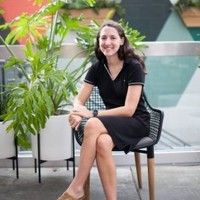 Written By
Christy Rakoczy Bieber
Christy Rakoczy Bieber is a full-time personal finance and legal writer. She is a graduate of UCLA School of Law and the University of Rochester. Christy was previously a college teacher with experience writing textbooks and serving as a subject matter expert.