5 Top Journalism Scholarships for Students and How to Apply
Finding specific scholarships is a great way to fund your education. This article dives into scholarships for journalism.
Journalists need specialized training to be successful in the industry and to maximize their career opportunities. Unfortunately, earning a journalism degree can cost well over $100,000 -- and that's on top of any undergraduate tuition expenses.
The good news is, journalism scholarships could help to defray the cost of earning your degree. If you aren't sure where to start looking for scholarships for journalism, check out five top options below.



1. The Society of Professional Journalists
The Society of Professional Journalists runs an annual scholarship contest for high school students. This is one of the best journalism scholarships if you're planning ahead with the goal of becoming a professional writer.
Amount
There are three separate scholarships awarded:
$1,000 scholarship to the first place winner

$500 scholarship to the second place winner

$300 scholarship to the third place winner
Eligibility
This scholarship is open to high school students who complete an essay topic. For the 2021 scholarship, students must write an essay in response to this prompt:
"Why must journalists strive to improve diversity and representation in both their coverage and in their newsrooms, and how might this happen?"
How to Apply
Entries must be postmarked by February 19, 2021. Eligible high school students can find the mailing address and full contest rules on the website of the Society of Professional Journalists.
2. The American Copy Editors Society
ACES, the Society for Editing, offers annual scholarships through their education fund.
Amount
There are six total scholarships available:
$3,500 from the Bill Walsh Scholarship

$2,500 for the Aubespin Scholar

$1,500 for the remaining four scholarships
Eligibility
Applicants for all scholarships must be a junior or senior at a college or university or a graduate student during the summer or fall term. Students in any academic field are eligible as long as they are working towards a degree.
The Bill Walsh Scholarship is awarded to a student who demonstrates "talent and passion" for editing news writing while the remaining five scholarships are available to "critical thinkers" who "have a passion for making writing clear and engaging
How to Apply
Students must submit an application for a scholarship by November 15, 2021. Applicants may apply for all six scholarships, but can only win one. There are specific requirements, including writing a summary/headline of sample news articles. You can find out specific requirements and submit your application online on the ACES Editors website.



3. The National Press Club
Several scholarships are available through the National Press Club.
Amount
Scholarship options include:
$5,000 per year for up to three years through the Scholarship for Journalism Diversity Honoring Julie School. This is for a student who will bring diversity to American Journalism

$5,000 from the Feldman Fellowship for Graduate Studies in Journalism for a grad student studying journalism.

$5,000 from the Richard G. Zimmerman Journalism Scholarship for high school seniors who wish to pursue a degree in journalism

$5,000 per year for up to three years for students interested in working in broadcast journalism.
Eligibility
Eligibility requirements vary by scholarship. Some are for high school students, while others are for graduate students. All scholarships are intended specifically for those pursuing journalism careers.
How to Apply
The National Press Club provides specific details about the application process for each of the four scholarships. The applications can also be found on this website and must be submitted online. Deadlines for the 2021 year have passed, but the scholarships are available annually with submission deadlines between April and May.
4. The National Press Photographers Foundation
Photo journalists may be interested in scholarships from this professional organization.
Amount
More than a dozen scholarships are available with values running from $500 to $4,000.
Eligibility
Requirements vary by scholarship but all are limited to those interested in photojournalism who have a portfolio of past work. Undergraduate and professional students can both find scholarship opportunities from the National Press Photographers Foundation.
How to apply
Application instructions including deadlines and portfolio requirements can be found on the website of the NPPF.



5. The Overseas Press Club Foundation
For students interested in becoming foreign correspondents, the Overseas Press Club Foundation provides well over a dozen scholarship and fellowship opportunities.
Amount
Amounts vary by scholarship. For example, the David R. Schweisberg Memorial Scholarship provides up to $2,000.
Eligibility
Scholarships are available to undergraduate and graduate students with interest in working in journalism overseas.
How to Apply
You can find a complete list of scholarships on the Overseas Press Club Foundation website, along with eligibility requirements and application details.
Where to find other Journalism scholarships
Although these top five journalism scholarships can go a long way towards paying for school, you may be interested in some other resources for finding financial help. To find more scholarships for journalism school, check out the following resources.
Your school's financial aid office
Your journalism school may have a database of scholarships available that you can search for. They can also provide you with information on school or department specific scholarships that may be open only to students attending your specific academic program.
Your state's Department of Education
There may be scholarships exclusive to the state where you live or are planning to attend school. Your state's Department of Education is a good resource to find this type of financial help. You can find individual State Departments of Education online.
Scholarship search websites
There are many online websites that have searchable databases of scholarships. You can find both general scholarships open to people attending any type of graduate program, as well as journalism-specific scholarship opportunities.
Some examples of websites where you can look for scholarships include:



What to do when scholarships for journalism aren't enough
Ideally, you will be able to pay to earn your journalism degree with scholarships and grants alone -- but that's not possible for many students. If you can't get enough free money that you don't have to pay back, you will need to look into student loans.
Federal student loans from the Department of Education have low fixed interest rates and many important and unique borrower protection features. For example, there are options to get loans forgiven, to change payment plans, and to cap payments at a percent of income. Always max out federal student loans so you can benefit from these perks.
Once you've exhausted your federal loan limit, private loans are also a great way to pay for journalism school. There's lots of competition among private student loan lenders and interest rates are very low right now so borrowing for school is affordable -- and private loans don't have the strict annual and lifetime borrowing limits that federal loans do.
If you're looking for private student loans, Juno can help. We've vetted loan offers from dozens of partner lenders and we negotiate with lenders on behalf of groups of borrowers to help ensure anyone taking out student loans gets the most affordable rate possible given their financial credentials.
Join Juno today to find out more about your options for affordable private student loans to help fund your degree.
---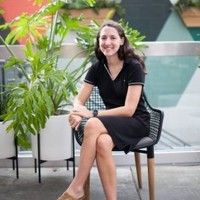 Written By
Christy Rakoczy Bieber
Christy Rakoczy Bieber is a full-time personal finance and legal writer. She is a graduate of UCLA School of Law and the University of Rochester. Christy was previously a college teacher with experience writing textbooks and serving as a subject matter expert.